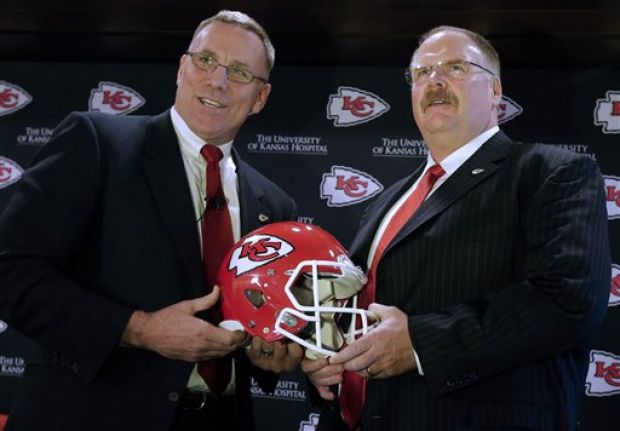 Chiefs GM John Dorsey & HC Andy Reid
Since the Chiefs have acquired Alex Smith by trade with th

e

49ers, many Chiefs fans are expressing angst and frustration by the move. Many feel the Chiefs gave up too much for Smith and many feel its time for the Chiefs organization to draft their own QB to develop into the "F

ranchise QB."
In the NFL, anything can happen, and assuming anything can

quickly backfire.
Here's 1 theory. Call it a long shot. Call it crazy. Call it what you

want.
What if the Chiefs still plan on drafting a QB in rd. 1 or 2? Yeah, rd. 2, even though there is no rd. 2 pick. I'll get to that. Here we go. The Chiefs trade the first pick back into the

#

4 - #8 range. Then trade that pick back to the

#

12 - #16 range and also get

2

nd rd. pick

. Now the Chiefs still have picks for all 7 rounds.
Second part to this. With the Chiefs publicly acknowledging that they are shopping the FA CB market, it's become no secret that Reid/Dorsey want a CB who can immediately be an impact player opposite Brandon Flowers. There are quite a few big names out there. Sea

n Smith (MIA), Brent Grimes (ATL), Chris Houston (DET), Aquib Talib (NE), and Dominique Rodger-Cromartie (PHI)
.
Signing a top FA CB would surely guar

a

ntee that no CB will be drafted high
.
This open

s

up the possibility for a DL to be drafted very high. It's also known that the Chiefs were actively pursuing DE Chris Canty,

form

erly of NYG. Being able to sign a quality, consistent DE would drop the need for drafting a DE high (this draft class is loaded with DL and DB, making drafting a DL or CB in rd. 3 still poss

ible

). Therefor acquiring a quality veteran DE

, again, decreases the immediate need.
So now this would ope

n

the door to focusing on another position in rd. 1 or 2 (the re-signing of Brandon Albert is a must in this sc

enario

). Is anyone else foll

owing where I'm going with this?
Now that Reid/Dorsey have signed their big name FA CB, and solidified the DL with a FA veteran (Dorsey

will be free agent

, and TJax will have his 2013

$14.7mil salary

restructured), the Chiefs can now stick to the "

Fan Plan"
and draft QB G

e

no Smith of West Virginia with the 1s
t round pick (although in this theoretical scenario, Geno will be gone before the

10

th pick).
Or, the Ch
iefs can draft Tyler Wilson in the middle of rd. 1. Or draft whomever they
want, and address a QB in the 2nd r
d, i.e. E
J Manuel,
Ryan
Nassib, or Matt Barkley. Anyhow, this wo
uld give the Chiefs the ability to draft their QB a

nd develop him behind Alex Smith for at least a couple years

(similiar to what happened with Aaron Rodger

s

in GB when Favre was still there).
I know this sounds like fantasy or far fetched, but I believe Reid/Dorsey will try and get a 2nd rd. pick in the upcoming draft. And I'm fairly confident they will trade back the necessary amount of times in the 1st rd.

to

acquire it.
So even though many Chiefs fans are already throwing in the towel on the new regime, let's just kick back and give them at least 1 year to prove how competent or incompetent they really are. We may very well be surprised. After all, this is the NFL, there are no sure things, and anything can hap

pen.
Go Chiefs!
Follow @ChrisAtkins4GM